British Vogue's Historic All-African Magazine Cover Hasn't Pleased Everyone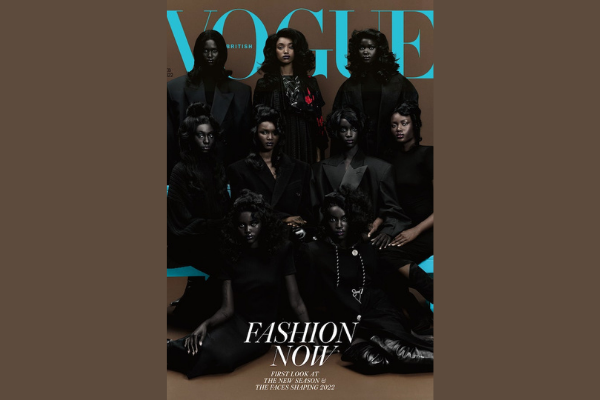 Image via British Vogue
Last week, British Vogue unveiled a historic cover for its February 2022 issue, featuring a lineup of nine African models from across the continent. 

However, it seems that the pictorial, which feature models Abény Nhial, Adut Akech, Akon Changkou, Amar Akway, Anok Yai, Janet Jumbo, Majesty Amare, Maty Fall, and Nyagua Ruea (in alphabetical order) hasn't pleased everyone. 

Despite it setting a precedent for the celebration of African beauty in mainstream fashion, some people took to social media to criticize parts of the shoot they thought weren't a true reflection of the models' beauty. 
This cover is weird. The lighting is off. The backdrop is off. The various skin tones and highlights are missing. And the African models are all in European styled wigs. Huh? @BritishVogue definitely needs to hire Black women photographers. https://t.co/Uz9VJUKW4k
— Nichelle (Nyx Greenfyre) Johnson (@NyxGreenfyre) January 14, 2022

Also, as per Complex, others took issue with the models' facial expressions, feeling like there was an "absence of joy," not helped by the fact they were all dressed in black. There was speculation that the models' skin tones had been unnaturally darkened as well.
I can understand why people think the British Vogue cover is great but the comments below begin to depict why it really isn't. The cover could have been so much better! pic.twitter.com/534eLSxXcJ
— Mr Adeyemi ✊🏾 (@ActiveYouthUK) January 16, 2022

Stephanie Busari, an author for CNN, concurred with the public's sentiments. She recounted that her "heart sank" when she first saw the cover, feeling that they were depicted in a "dark and ominous" manner. 

"Why were they dressed all in black, giving a funeral air, and an almost ghoulish, otherworldly appearance?" she wrote. 

Additionally, Busari pointed out that it was disconcerting that the models were photographed in coiffed wigs instead of in their natural hair, a distinctive feature of African culture that should be celebrated. 

"Was this the best way to celebrate Black beauty? Would it not have been better to let their natural, unique beauty shine through?" she asked.

Could the British Vogue cover be an example of great intention being poorly executed? Perhaps institutions should seek out the opinions of the ethnic groups they're representing in order to present them in the best light.
[via Complex and CNN, cover image via British Vogue]